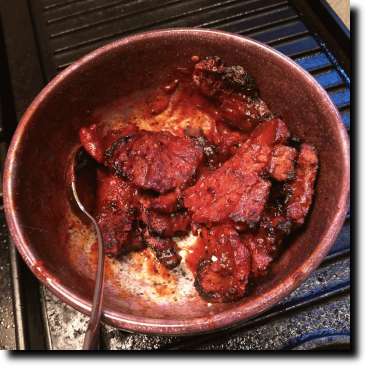 A:
450g vital wheat gluten
50g whole wheat flour
25g nutritional yeast
1T onion powder
1T dried herbs (oregano, thyme, etc.)
1T salt
1/4t celery seed
1t garlic powder
1/2t pepper, ground
B:
265g water (warm)
30ml soy sauce
C:
150g vegetables (onion, celery, carrot)
2c garlic
1 bay leaf
1.
Mix (A) on low speed in stand mixer with mixer attachment. Add (B) and mix until combined.
2.
Place dough hook on mixer, knead on low speed for 15-20 minutes, until dough pulls away from walls of bowl. Remove from mixer, cover with towel and let stand 15 minutes. Cut into 2 parts.
3.
Place (C) in large pot, add dough and cover with water. Bring to boil, reduce heat to medium-low, and simmer for 90 minutes. Remove from heat.
4.
Remove seitan from pot, place in container with water and a bit of soy sauce. Can be refrigerated for 1-2 days.
$Id: seitan,v 1.1 2017/06/03 14:38:17 deaven Exp $