Soup/French Onion Gratinee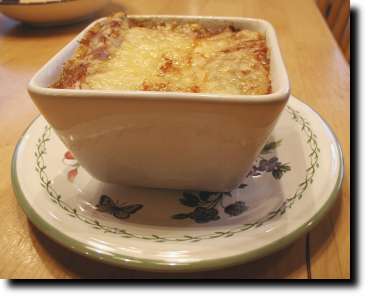 A:
1/2C partially clarified butter
1 1/2# yellow and white onions
B:
1C dry white wine
C:
4 sprigs thyme
2 bay leaves
2T peppercorns
5c garlic, peeled and sliced
5T parsley
D:
12C chicken stock
E:
1/4C dry sherry
salt and pepper to taste
F:
French bread, 1/4" thick to fit crocks
6C grated Gruyere cheese
1.
Saute (A) at medium-high heat 10-20 minutes until onions are caramelized. Onions should be dark brown but not blackened.
2.
Deglaze with (B) and reduce by half.
3.
Place (C) in a cheesecloth sack, add to pot with (D). Cook until reduced to 8C volume.
4.
Remove cheesecloth, add (E) and separate into crocks. Place (F) on top of each crock, broil six inches from flame until cheese is browning. Serve.
$Id: french_onion_gratinee,v 1.3 2023/05/09 00:25:00 deaven Exp $