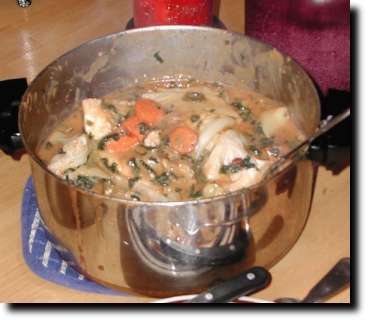 A:
1/2C olive oil
1 1/2# chicken, cut up
B:
1 onion, cut into 1" pieces
1c garlic, minced
C:
2T flour
D:
3/4C peanut butter
E:
6oz tomato paste
20oz chicken stock
salt & pepper to taste
F:
2C carrots, cut into 1/2" pieces
1/2 cabbage, cut into 2" pieces
4 potatoes, cut into 3/4" pieces
G:
10oz chopped spinach (frozen)
1.
Heat (A) in 10qt pot, brown chicken on all sides.
2.
Remove chicken and reserve. Add (B) and saute 3-4 minutes.
3.
Add (C), cook until bubbly.
4.
Add (D), stir until peanut butter is melted.
5.
Add (E) gradually, stirring.
6.
Add reserved chicken and (F). Cook over medium heat, covered, 15 minutes.
7.
Add (G), stir, cook covered 10 minutes.
8.
Serve over rice or couscous.
Servings: 6
$Id: tigadege,v 1.3 2018/05/27 14:21:49 deaven Exp $