Soup/Potato Soup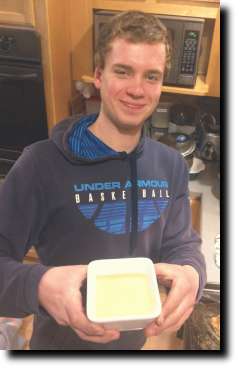 From Judy Corkill -- about 1986
..Papa (Charles) Corkill also makes great potato soup.
..
A: Potatoes
Onions, at least several large ones
B: butter/margarine
salt
pepper
C: milk
1. Pare and cut up (A) -- the more onions, the better. Boil together with as
little water as possible (don't burn!).
2. When potatoes start to be soft, add (B). "I like lots of pepper, and more
oleo makes it yummier."
3. When potatoes are *really soft*, mash with potato masher. Add (C) (milk) to
desired consistency. You want it thin to put on cornbread but not watery.
If you have used too much water, you may need to remove some before adding
anything.

---
$Id: potato_soup,v 1.2 2005/08/29 00:30:08 jen Exp $


Recipe Card
Ingredient list only (can be imported to MyFitnessPal)