Desserts/Walnut Pear Cake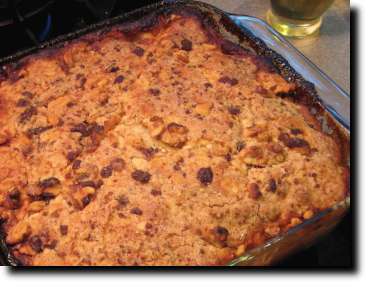 A: 1C walnuts
1/3C brown sugar
1t cinnamon
B: 1/4C butter
1/3C flour
C: 2 pears
2t lemon juice
D: 1 3/4C flour
3/4t baking powder
1/2t baking soda
1/4t salt
1/2C butter
1C sugar
1t vanilla
2 eggs
8oz sour cream
1. Mix (A) and reserve.
2. Mix (B) with 3/4C of (A) mixture and reserve.
3. Cube (C) and toss with lemon juice and the remainder of (A) mixture,
reserve.
4. Mix (D) in mixing bowl, wet ingredients first, and beat into a smooth
batter.
5. In greased 9" pan, place 2/3 of the (D) batter, followed by (C) mixture, the
the remaining (D) batter, finally the (B) mixture.
6. Bake at 400F for 70 minutes.

---
$Id: walnut_pear_cake,v 1.1 2001/07/06 04:30:30 deaven Exp $


Recipe Card
Ingredient list only (can be imported to MyFitnessPal)