Vegetarian/Spinach Manicotti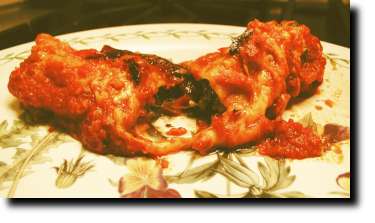 A:
15oz ricotta cheese
10oz frozen spinach, thawed
4oz mozzarella
1/2C Parmesan
3c garlic, minced
1 egg
2T onion, chopped
2t parsley
pepper
B:
Manicotti shells
C:
24oz marinara sauce
D:
mozzarella and Parmesan cheese
1.
Mix (A) in bowl.
2.
Spread some sauce (C) in bottom of 9x13" oiled pan.
3.
Stuff uncooked shells (B) with (A) and place in pan.
4.
Cover with remaining sauce (C), top with (D). This can keep overnight in refrigerator, or be frozen, for rapid preparation later.
5.
Bake 350F 45min (longer if frozen).
Servings: 6
$Id: spinach_manicotti,v 1.4 2018/11/26 04:48:07 deaven Exp $