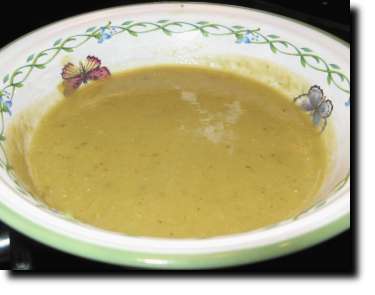 A:
2oz bacon, chopped (about 2 strips)
1 onion, sliced
2c garlic, sliced
1 carrot, sliced
1t thyme
2t pepper
B:
1.5qt water
1/2# dried split peas
1/2 bay leaf
1t salt
1.
Place (A) in pressure cooker pot without lid, and saute until onions are starting to caramelize.
2.
Add (B), cover, bring to 20# pressure and cook for 20 minutes. Remove from heat and let stand until cover can be removed.
3.
Blend with an immersion blender to smooth consistency.
4.
Serve with additional ground pepper and garlic hot sauce over top.
Servings: 6
$Id: split_pea,v 1.3 2017/12/03 16:05:07 deaven Exp $