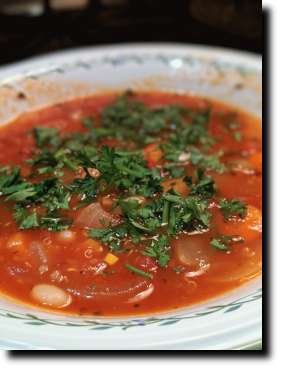 A:
1C white beans (dry)
B:
1/4C olive oil
2 onions, chopped
3 carrots, diced
2 stalks celery, diced
3c garlic, minced
C:
28oz tomatoes, chopped or crushed
6C soup stock (vegetable, chicken, or beef)
1 bay leaf
1/2C quinoa
1T oregano, or other Italian herbs
Salt and pepper, to taste
D:
1/4C parsley, chopped
1.
Pressure cook (A) for 22min at 25#.
2.
Place (B) in heavy pan and saute until onions are starting to caramelize.
3.
Drain (A) and add with (C) to pot. Simmer for 15 minutes until quinoa is cooked.
4.
Serve with (D) on top.
Servings: 10
$Id: quinoa_bean_soup,v 1.1 2019/07/10 03:58:30 deaven Exp $