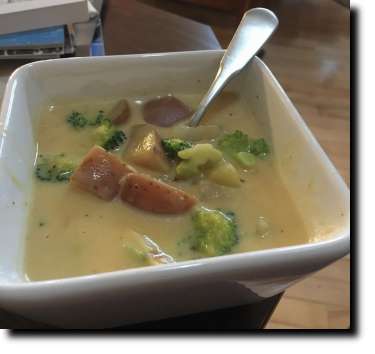 A:
2C broccoli, chopped, including stems
B:
1t canola oil
1 small onion, chopped
1 medium red potato, diced
C:
1/4C flour
D:
3C vegetable broth (alternate: chicken)
1t Worcestershire sauce
1/4t nutmeg
E:
1C cheddar cheese, grated
2C milk
F:
Salt & pepper
1.
Prep (A) by cutting small florets, reserving stems after removing any tough flesh. Chop the stems, place into large pot, and reserve florets.
2.
Add (B) to pot and cook over medium heat until onions are translucent.
3.
Add (C) to pan and stir to absorb all flour, cook until flour is cooked (no more flour smell).
4.
Add (D) to pan, raise heat to high and bring to boil. Reduce heat to low, simmer for 15 minutes.
5.
Simmer florets in water until tender.
6.
Add florets to main pot, add (E) and remove from heat. Mix until all cheese has melted and adjust seasoning with (F).
Servings: 8
$Id: broccoli_cheddar,v 1.3 2019/08/24 16:15:13 deaven Exp $