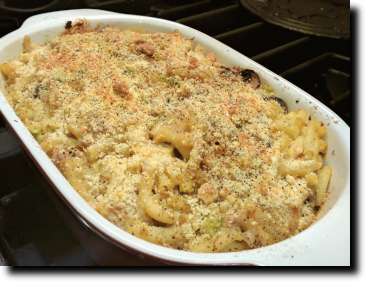 From Judy Corkill - about 1986, a staple when Jennifer was growing up.
A:
1 Box macaroni & cheese, prepared
B:
10oz tuna, drained (2 5oz cans)
1 can mushroom soup
1T pimento (or roasted red pepper), minced
4T green pepper, minced
C:
1/4C parmesan cheese
1.
Make (A) according to recipe on box.
2.
Combine (A) and (B) in a greased casserole dish.
3.
Top with (C), bake 350F 25 mins.
Servings: 6
$Id: tuna_casserole,v 1.3 2018/11/26 04:48:00 deaven Exp $