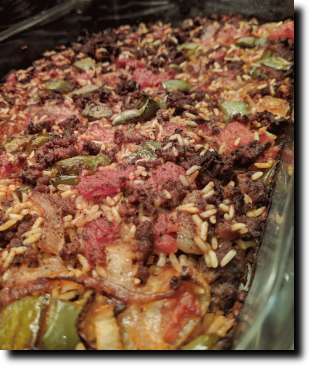 From Judy Corkill - about 1986 ..A staple when Jennifer was growing up.. ..Judy left out the green peppers.. ..
A:
3 onions, sliced
1 green pepper, minced
B:
1# ground beef, turkey, or ostrich
C:
2C tomatoes, cooked
1/2C uncooked rice (or 2C uncooked noodles)
1t chili powder
2t salt
1/8t pepper
0.
Preheat oven 350F.
1.
Cook (A) in 3T oil/fat until onions are yellow.
2.
Add (B) and fry until mixture falls apart.
3.
Stir in (C).
4.
Pour into greased 2-qt casserole dish. Cover & bake 1 1/4 hour, removing cover last 15 mins.
5.
Serve hot -- good with corn, green salad & french bread.
Servings: 6
$Id: texas_hash,v 1.4 2018/11/26 04:48:00 deaven Exp $