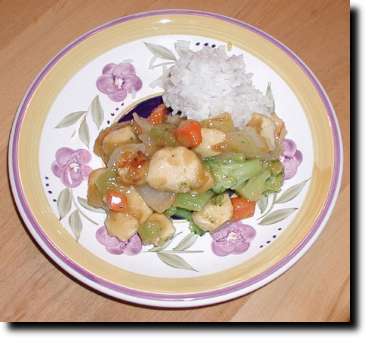 A:
2 chicken breasts, cut into small pieces
1T corn starch
2T orange juice concentrate
2T white wine or beer
B:
1T ginger, minced
1/2T garlic, minced
1 green onion, minced
1t Sichuan pepper
4T orange juice concentrate
2T dry wine or beer
2T honey
2T soy sauce
1T Sichuan bean sauce
1t sesame oil
2T dried orange peel or 1T zest
2T corn starch
C:
3-4 carrots, cut into disks and steamed
2-3 stalks broccoli, cut into pieces and steamed
1 onion, cut into pieces and steamed
D:
3T peanut oil
1-3 Sichuan chiles
1.
Combine (A) and coat. Marinate for 30 minutes.
2.
Combine (B). Prepare and/or cook (C) as needed.
3.
Add (D) to wok, bring to high heat, remove chiles when dark and reserve.
4.
Drain (A) and add to oil in wok. Stir-fry about 2 minutes. Add (B), then (C), stir-fry another 4-5 minutes.
$Id: orange_chicken,v 1.2 2005/01/03 19:09:17 deaven Exp $