Meat/Enchiladas Coloradito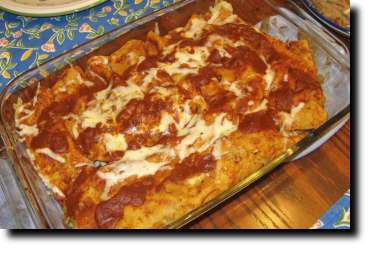 A:
1# pork shoulder
1/2 onion, sliced
2t salt
1/2t thyme
B:
7 chiles anchos, dried
C:
5c garlic, unpeeled
D:
2 slices bread, toasted dark
1 tomato, peeled and cored
1 onion, chopped
1t oregano
E:
3 whole cloves; 5-6 peppercorns; 1/2" cinnamon stick; 2T sugar
F:
1 small potato, diced 1/4" and boiled
1 onion, diced 1/4" and boiled
1/2 plantain, ripe, diced 1/4"
G:
1 tomato, peeled and cored
1/2t salt & pepper
H:
12 corn tortillas
I:
1/3C feta cheese
1/3C jack cheese, grated
J:
2-3 rings of fresh onion
3T escabeche or radish
cilantro
1.
Add (A) to slow-cooker and barely cover with boiling water. Cook on low for at least 6 hours. Reserve meat, broth and skim fat.
2.
Cover (B) with boiling water and reconstitute for 30 minutes. Roast (C) gently on a hot skillet and peel. Grind (E) in mortar.
3.
Combine (B), (C), (D), (E) and 1/2C pork broth into blender and puree until smooth.
4.
Heat 1T oil in skillet until drops of puree sizzle, then add puree all at once and cook until thickened.
5.
Add 1 1/2C pork broth to skillet and simmer for 45 minutes. Add broth to bring to correct thickness.
6.
Shred pork and combine with (F) and add to hot skillet with 2T oil. Cook, stirring frequently to gather browned bits from bottom of pan.
7.
Add (G) to meat mixture in skillet.
8.
Heat (H) directly over gas flame, assemble enchiladas by spooning meat onto tortillas, place in baking dish, cover with sauce and (I), and bake at 350F for 5-10 minutes. Garnish with (J) and serve.
Servings: 12
$Id: enchiladas_coloradito,v 1.4 2018/11/26 04:48:00 deaven Exp $