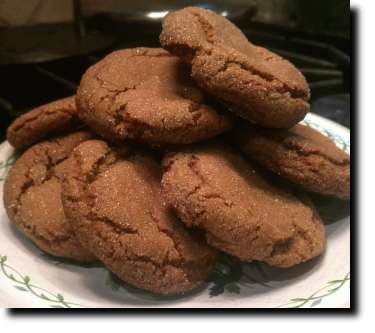 A:
3/4C butter (or shortening or cooking oil)
1C sugar (white or brown)
B:
1/4C molasses (alternate: 1/3C sorghum)
1 egg
C:
2C flour
1t baking soda
1/2t salt
2t ginger, ground
1 1/4t cinnamon, ground
1/2t cloves, ground
1.
Cream (A) in a large bowl, then stir in (B).
2.
Combine (C) together and mix into wet mixture. Cover, chill 1 hour.
3.
Use cookie scoop to form 1" balls & roll in sugar, place 2" apart on greased cookie sheet.
4.
Bake in 375F oven about 8-10 minutes, removing when crinkles start to form. Makes 30-36 medium cookies.
Servings: 16
$Id: ginger_crinkles,v 1.6 2020/09/24 02:31:05 deaven Exp $