Desserts/Chocolate Oat Chip Cookies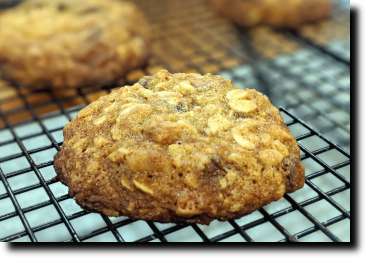 ..From Judy Corkill, 3/2001
A:
1C butter, softened
1 1/4C brown sugar, firmly packed
1/2C sugar
B:
2 eggs
2T milk
2t vanilla
C:
1 3/4C flour
1t baking soda
1/2t salt (optional)
D:
2 1/2C Quaker Oats (quick or reg., uncooked)
12oz chocolate chips, or 1C raisins
1C nuts, coarsely chopped
E:
1t cinnamon
1/4t nutmeg
1.
Preheat oven to 375F. Beat (A) until creamy.
2.
Add (B) & beat well.
3.
Combine (C) & add. Mix well.
4.
Stir in (D) & mix well. Add (E) for oatmeal spice cookies.
5.
Drop by rounded T. onto ungreased cookie sheet.
6.
9-10 min. (chewy cookie) or 12-13 min. (crisp cookie).
7.
Cool 1 min. on cookie sheet; remove to wire rack.
8.
Cool completely. Store in tightly covered container. ..OR..For Easy Bar Cookies..
5.
Press dough onto bottom of ungreased 9"x13" baking pan.
6.
Bake 35-40 min. or until light golden brown.
7.
Cool completely.
8.
Cut into bars. Store in tightly covered.
Servings: 30
$Id: chocolate_oat_chip_cookies,v 1.3 2018/05/09 02:50:54 deaven Exp $