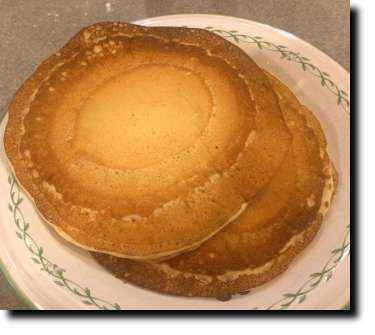 A:
4T butter
B:
1 1/2C flour
1/2t salt
4T sugar
1 1/2t baking powder
C:
1 egg
1 1/4C milk, about
1t vanilla
1.
Melt (A) in iron skillet over low heat.
2.
Combine (B) in a mixing bowl. Add (but do not mix) (C).
3.
Add (A) while stirring. Use a spatula to really clean off all of the butter from the skillet.
4.
Add milk to get desired batter consistency, and beat until smooth.
5.
Optionally, add chocolate chips, chopped fruit, and/or nuts, to the batter.
6.
Set skillet to medium high heat. Pour batter into middle of skillet, flip when bubbles appear (~2 minutes) and cook ~1 minute longer.
Servings: 8
$Id: pancakes,v 1.7 2017/08/31 15:12:04 deaven Exp $