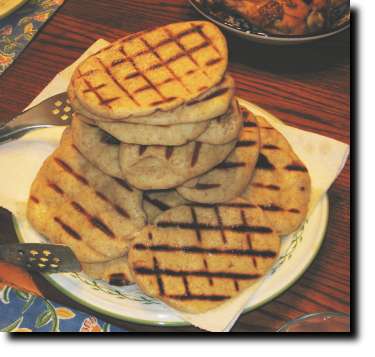 A:
1t yeast
1/2C warm water
B:
2T sugar
2T milk
1 egg
1t salt
C:
1C whole wheat flour
1C white flour
D:
3c garlic, minced
E:
1/4C butter, melted
1.
Combine (A) in large bowl and let proof for 10 minutes.
2.
Beat (B) together, add to (A) and mix.
3.
Add (C) and knead until smooth. Cover in oiled bowl and let rise 50 minutes or until doubled in size.
4.
Punch down, remove from bowl, and roll out 4cm balls. Cover and let rise 30 minutes.
5.
Heat grill to high heat. Place flattened balls of dough onto grill, brush (E) onto top side, turn, brush (E) onto cooked side, place onto paper towel.
$Id: naan,v 1.2 2017/05/20 19:25:10 deaven Exp $