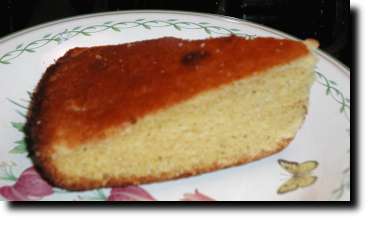 A:
1 1/2C yellow cornmeal
1/2C flour
1/3C sugar
1/4C canola oil
4T butter, melted
1C milk (scant)
2t baking powder
1/2t baking soda
1t salt
2 eggs
1/4C chiles, chopped (optional)
1.
Preheat over to 450F and grease a 9" iron skillet.
2.
Mix (A), beat 30 seconds only, pour into pan.
3.
Bake 450F for 25 minutes, until golden brown.
$Id: cornbread,v 1.5 2007/01/01 00:34:36 deaven Exp $