Soup/Chili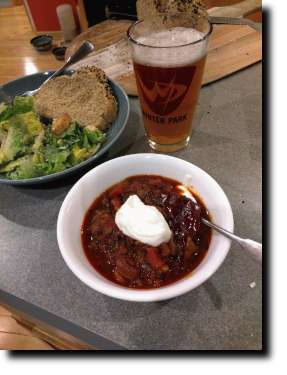 A:
3 dried colorado chiles, seeds removed
1/2t cumin seed
B:
4 strips bacon
C:
1# ground beef
2 onions, chopped
3c garlic, minced
2t oregano
1/2t thyme
1/2t salt
2 colorado chiles, seeds removed and roughly chopped
D:
1 3/4C beef broth
28oz crushed tomatoes
14oz tomato sauce
1.
Place (A) in iron skillet over low heat, and press, roasting until fragrant but not blackened. Process to coarse powder.
2.
Fry (B) in large pot, remove when crisp, chop, and return to pot.
3.
Add (A) mixture and fry 2 minutes longer.
4.
Add (C) and cook until meat is browned.
5.
Add (D), bring to boil, reduce heat to low, simmer 15min.
6.
Serve with sour cream or plain yogurt.
---
$Id: chili,v 1.1 2017/05/14 03:40:24 deaven Exp $


Recipe Card
Ingredient list only (can be imported to MyFitnessPal)