Sides/Elote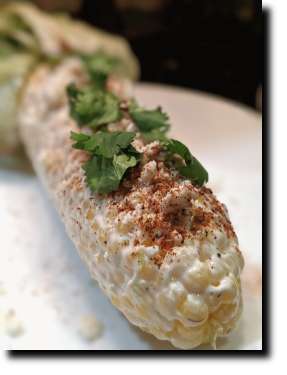 A:
6 ears corn
B:
1/3C mayonnaise
2T sour cream
C:
1/3C cotija cheese, grated (feta OK as alternate)
4t chili powder, combination of ancho, chipotle, and cayenne
1/4C cilantro, chopped
D:
1 lime, cut into wedges
1.
Husk (A), removing outer husk and drawing inner husk back, tying to make a nice handle.
2.
Grill over low heat until done, then move to high grill heat and char slightly.
3.
Combine (B) in bowl. Brush onto ears of corn, dress with (C), and serve with (D).

Servings: 6

---
$Id: elote,v 1.2 2019/08/21 04:35:39 deaven Exp $


Recipe Card
Ingredient list only (can be imported to MyFitnessPal)